Violet Femme Dress
Stylist Notes

Sparkling purple tones, a bateau neck and flattering shape all come together to make this Theia dress a standout. Lock all eyes on the geometric pattern and pair with simple accessories.
Size & Fit

Sized: 0-12 & plus 14W-22W
Size & Fit Notes
Sized: 0-12 & plus 14W-22W
Size Chart
Product Details

Purple faille (100% Polyester). Sleeveless. Boat neckline. Full skirt with side pockets. Hidden back zipper with hook-and-eye closure. Fully lined. V-back. 36" from shoulder to hem. Imported.
Share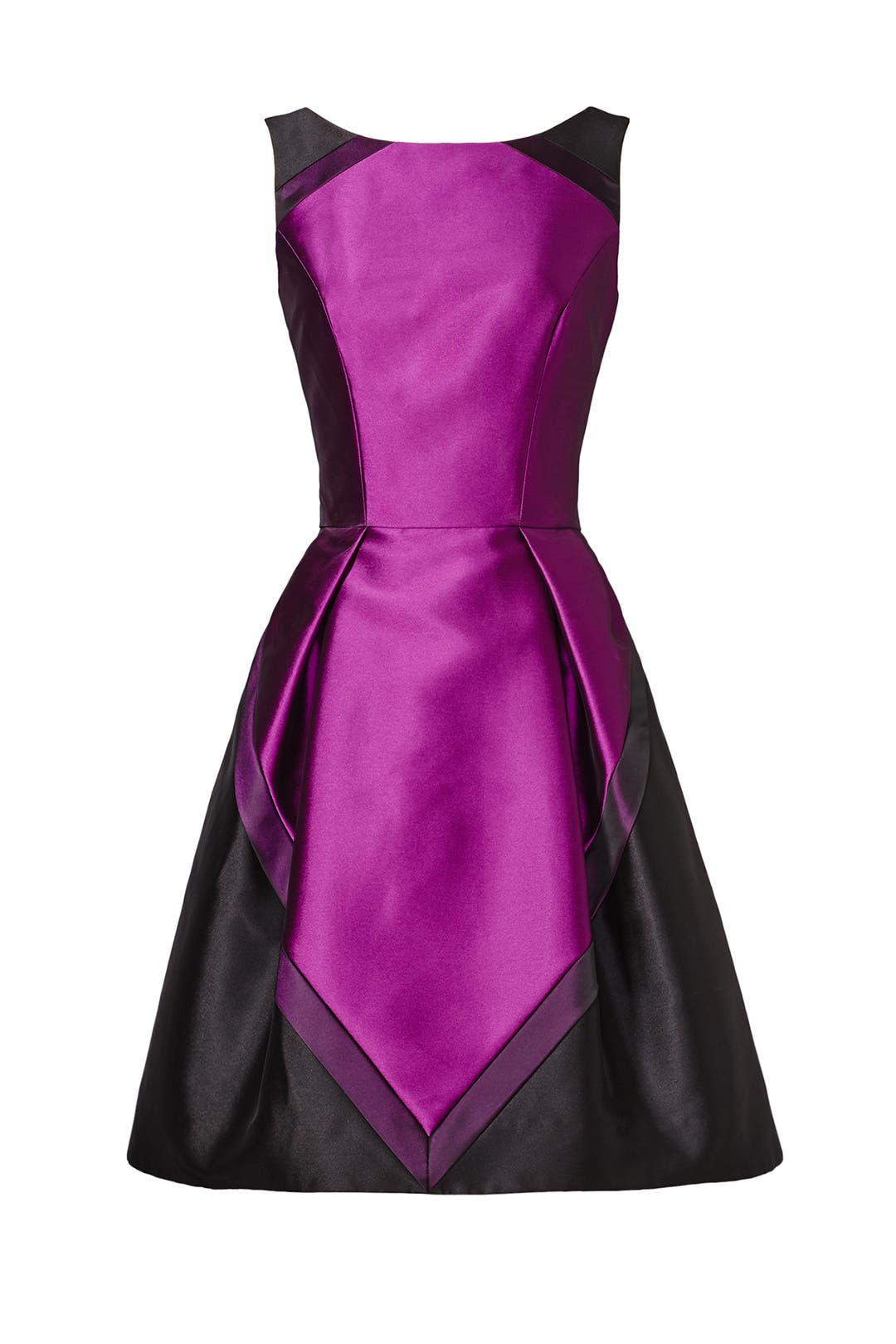 Fit
| | | |
| --- | --- | --- |
| Large | | (10) |
| True to Size | | (29) |
| Small | | (0) |
Overall fit:
True to Size
Lots of compliments loved the style!
No complaints
Overall fit:
True to Size
The dress was gorgeous but a little fuller than I would have liked.
the dress fit great and I received lots of compliments. I did need to wear a strapless bra. The lower half of the dress was very full.
Overall fit:
True to Size
purple photographs differently then whats displayed- not a bad thing, just deeper- deceiving
the fit is perfect- top has a nice back poofy bottom ensuring you can shake it while being modest was weary of material but very comfortable dress Definitely rent!
Overall fit:
True to Size
Comfortable, beautiful, feminine, functional!
The color is darker in person than it looks on the RTR website, but still a gorgeous deep violet. I got so many compliments on the dress. I loved that I could carry my lipstick, beauty blotters, and cell phone in the pockets (no evening clutch needed). Very comfortable fabric and forgiving silhouette that does not require any type of Spanx or restrictive underthings. It was also very flattering and created more of a waist line than I have naturally, giving me a more hourglass look. I was so happy with my choice! This was perfect for an outdoor fall wedding, but would be perfect for the Holidays as well.
Rented for:
Formal Affair
It is a beautiful dress. Elegant and stylish. I like it a lot!
Slightly bigger than my other size2 dresses, but not too much off.
Overall fit:
True to Size
My 'Rent The Runway' debut - first time rental for me, was pleasantly surprised at easy process!
I decided to have a consultation at the Georgetown showroom and Amanda was fabulous! She picked this dress out for me and -viola! - it fit perfectly. at 63 years old, it can sometimes be difficult to find the right length, but this dress was perfect. I loved that it was brand new and gorgeous amethyst color. With pockets! So glad the Kate Spade dress that I originally wanted wasn't available!
Overall fit:
True to Size
This wasn't the dress I ordered, but was one of three options I was sent instead to choose from.
The shirt was more full than I usually wear, but the V-cut back and top fit flawlessly. The material is wonderfully weighted and beautiful blending of the rich purple and soft black.
Overall fit:
True to Size
Beautiful dress!
I wore this dress to a fall wedding that required cocktail attire. The fabric is thick, so I wouldn't recommend it for a summer wedding. The size 10 was very snug through my rib cage area, but I carry extra weight through my torso, so I am not overly surprised. I have had four children, and because of where the skirt started, it did great covering my lower stomach, a.ka., the baby pooch. I had tried the size 12 on, which fit great through the torso, but was absolutely huge in the shoulders. If I owned this dress, I would have to have the shoulders drawn and taken up several inches. It seems that the dress is made for a person who has a long torso. Overall, the dress was beautiful and very well made. I received many compliments throughout the evening. I would rent it again.
The abstract design and gradient purples on this dress are luscious and unique.
Incredibly flattering shape, and I loved the volume in the skirt, but somehow this dress ran much larger than I was expecting. Would have been perfect a size (or maybe even two?) down.
Beautifully Made
Beautifully constructed but the fit ran large. Probably not good for my height in any case- only 5'2" I was lost in the fabric.
Overall fit:
True to Size
The color is amazing!!!
Fit perfectly, could wear a normal bra (there are lingerie straps to hold your bra straps in place on th dress straps). Tons of compliments. Wore for our company holiday party.
Great, would rent again
LOVED the way this fit. It might run a tad big. The pockets were great and I got a lot of compliments
Overall fit:
True to Size
Rented for:
Formal Affair
i received so many compliments on this dress!
LOVE The COLOR! refreshing! Definitely tight in the chest area if you have boobs, But look great on an hourglass shape.Overall, comfortable and loved wearing it! Would rent this one again!
The color is perfect for a winter party because it gives you as splash of color.
For my petite ladies who are a true size 0, this dress runs large. The 0 was closer to a size 2. It has a ton of fabric on the bottom skirt, so it's a bit heavy. I'm small busted and the 0 had me swimming...it worked fine for an office party, but if I had to wear this to a wedding with a lot of dancing, I think I would have been miserable. Too much fabric and too big.
Overall fit:
True to Size
Great, flattering dress
I thought this dress was very flattering for my body type. I don't have much boob (~32DD right now, which is sounds big but isn't) and I have big hips and long legs. It was long enough on my tall frame to be comfortable sitting down but not so long I felt too conservative. I was able to wear a regular bra and didn't need spanx so it was a win all around. I also really liked that it had pockets and that those pockets did not open too easily. There is no stretch to the material at all - it is a somewhat thicker material, very nice feeling. Also, if you are busty I would size up, there wasn't exactly a ton of extra room in the boobal area even for me!
Overall fit:
True to Size
Rented for:
Formal Affair
Elegant and fun
Fabulous fit, really accentuates the waist. The skirt poofs out a bit, but makes you feel like Audrey Hepburn. Tight in the chest area. The back has a "V" but I was still able to wear a regular bra with straps. The purple is darker in real life, I got compliments all night. Extra glamorous!
Beautiful, bright violet color!
I usually wear a 6-8, but after reading the reviews thought I should try a 4, and a 2 for back up. I'm flat chested I was concerned it would look big even with a push-up bra on. (it did not, it was just right with a push-up ) The waistline at the dress falls at natural waistline, maybe even higher like an empire wasted dress. Because of this, the dress is great for hiding belly. I could of worn the 2, but decided with the 4 so I would feel comfortable if I ate a big dinner:) Also, it was nice to have pockets in the dress, I got many compliments, and the violet color was different than everyone else! I felt awesome, and had a great night
Overall fit:
True to Size
Rented for:
Formal Affair
Get so many compliments in this bright and elegant dress.
This dress has a beautiful flattering appeal to it. The waste was a bit snug but I was wearing this after the holiday season indulging in too many sweets. I like that I didn't need to get any special undergarments as the back goes low but not below the bra strap. We had to travel for an hour and a half in the car to the wedding and then home and then 30 minutes to the reception and it stayed relatively wrinkle free. So thankful for the privilege of wearing this gorgeous dress.
Gorgeous color and flattering shape!
I wore this to my company holiday party and received tons of compliments. The shape is flattering, the purple is gorgeous, and I loved having pockets! The material is rather stiff (which helps it keep its shape) so if you're looking for something that's more flowy and moves more, I wouldn't go with this dress. Because of the material it did arrive with some wrinkles so I ended up having a nearby dry cleaner press it. Size wise, it ran a smidge on the small/tight side. Overall, I recommend the dress.
Overall fit:
True to Size
Lovely. Colors lively, shape flattering to most figures, comfortable to wear to an engagement party
Loved this dress! VERY elegant, and comfortable. Highly recommend for formal, semi formal or just party wear.
Overall fit:
True to Size
Perfect for a wedding guest!
I rented this for a friend's wedding in October - and I LOVED it! I love the color and style - I hated to send it back. The fabric weight was perfect for an evening fall wedding. (Photo includes my sister who rented a Badgley Mischika for the wedding.) At that point, I was still working off weight from my post-pregnancy, so I couldn't fit into the 10 - but my back-up size 12 was perfect! (It was a little roomy through the natural waist, but the hips and bust were perfect!)
Overall fit:
True to Size
Contemporary take on a classic style
I loved this dress the minute I saw it. The color is darker in person and not shiny as it looks in the RTR photos. I discovered that photographing the dress with a flash gives this appearance, so I had a photo taken outside in natural light to show how it really looks. This dress runs true to size or perhaps runs a little large. The cut is very flattering and a conservative style that any age can wear. It is appropriate for a dressy evening party, theater event, or wedding. Special undergarments are not needed. The color and fabric of the dress is appropriate for a fall or winter event. The fabric has stiffness/body to it and it keeps its shape, i.e., the skirt does not flow/drape as you walk, sit, etc. There is also an attached crinoline to maintain the skirt's shape. I highly recommend this dress.
RTR Customer
Top Contributor
beautiful color. a little poufy in the skirt for my tastes. Would have liked a slightly trimmer li
A little poufy in the skirt for my tastes. Would have liked a slightly trimmer line to the skirt. But a beautiful color. This was my backup dress and I ended up wearing the other one.
Love the print but not much twirl-ability. Best for work function versus party.
Nice fabric but sometimes I just get tired of polyester. Really fun design and lines. Picture leaves something to be desired for sure...
Rented for:
Formal Affair
Perfect work benefit dress
Perfect work event dress. Just enough sheen to dress it up but the perfect shape for staying professional.
Really fun color and colorblock design! You will stand out
Loved this for the comfortable fit (normal bra and undies) combined with unique colours and full skirt. Runs true to size with a little room to spare. It really stood out at a holiday party where everyone was in red, black, or metallic, but is equally recommend it for a cocktail attire wedding in the cooler months or a very dressy work event. I think the fabric is a bit heavy for anything in the summer. Paired with sparkly gold kitten heels.
RTR Customer
Top Contributor
Very happy
Easy to wear - great color!
I have a small waist but wide hips and this dress was very flattering.
The color was amazing and the fabric was heavier which was nice for a winter wedding
Rented for:
Formal Affair
I felt amazing!
I loved everything about this dress. It was super flattering, showed off what I wanted to and hid what I didn't. It was very comfortable and the color is gorgeous. I got tons of compliments all night. The fabric is heavy, but not hot at all. It felt luxurious. I have a very large chest (38J) and this fit well. Didn't feel constricting at all. Most importantly, I could wear a standard bra with it. It hit right at the knee for me (I'm 5'10). Just perfect all around.
Overall fit:
True to Size
I got a lot of compliments on the beauty of the dress.
Dress was a perfect fit. If you are in between sizes go for the smaller size. I added a belt to the dress for waist definition, and it made for a perfect look.
Boards dress
Rented his to take my clinical boards in, this is probably the 3-4th Theia dress I've rented and the fit and designer work well for me: often small with flare skirts and pockets. Another great rental!
Overall fit:
True to Size
The dress was a hit!! I received compliments all night!
The dress fit true to size. I am a "G" cup and the top was not snug. The dress was comfortable, eye catching, and beautiful.
RTR Customer
Top Contributor
Overall fit:
True to Size
Rented for:
Formal Affair
Great fit, awesome color!
I wore this to my fiancee's company Christmas party, so I needed something fancy and fun yet conservative. I was very happy with this dress. It gave me a nice little waist and fit well across the chest. One of the best parts was that I was able to wear a normal bra with it. The color is even better in person and the fabric is thick and luxurious. I didn't want to take it off! I got compliments all night long, from the CEO of the company to the singer in the band. I'd definitely recommend this dress for a festive party or wedding.
Overall fit:
True to Size
Perfect dress for NYE party. Felt wonderful and got a ton of compliments.
Very heavy material. Fit was tight around rib cage but loose in top. Would be good for large breast. It came a bit wrinkled but used steam from my iron and it came out.
"Audrey Hepburn" Vibes
This dress looks so "timeless" on, I felt like Audrey Hepburn all night! Love the cut & color scheme and how well it maintains its shape, even after a night of dancing! The shiny material is beautiful & really holds you in. I didn't have to wear a bra! (I'm a C-cup for reference) Definitely true-to-size though is a little tight in the arm-holes, since the material comes up high on the sides. And also runs longer than id like.. But still a fantastic dress. Great for tall, long-&-lean body types
Overall fit:
True to Size
Rented for:
Formal Affair
This dress was so fun to wear! Loved the pockets...so convenient!
The fit was perfect for me. I wear 34D in bra size and pear shaped. The color really stood out in a sea of mostly black dresses at the event. Loved the pockets...super convenient for carrying your cell phone out on the dance floor!
Great time. Fantastic color and fun back.
This dress was huge. I loved the back and the pockets. If I had sized down it would have looked great. Loved the color. Fine for a regular bra.
Overall fit:
True to Size
Gorgeous and Comfortable Dress
Easily another item I wish I owned. I wore this to work and as such work a black cardigan over it. I received a ton of compliments and felt wonderful in the dress. Between the color, the pockets and the way it fits, this dress is just so fun. My only recommendation would be that bustier ladies may want to order true to size; I read the reviews and ordered a size 10 which would have been completely fine except for that I'm a 36DD, so the girls were pretty squished. That was the one and only downside. Otherwise, if you are fortunate enough to have a reasonable chest you could definitely size down and be very comfortable in this dress.
Overall fit:
True to Size
loved it want to purchase it!
beautiful
Overall fit:
True to Size
Would make a great bridesmaid dress
UPS had a snafu so this one didn't arrive in time for me to wear it. I did try it on once it came though! The fabric is beautiful and there's a great petticoat-type layer to keep the skirt shape. It fit well other than in the shoulders -- I have narrow shoulders and had I been any smaller, the straps would have fallen off. Really pretty color but would recommend more for a bridesmaid dress or conservative event -- it's classy and tasteful.