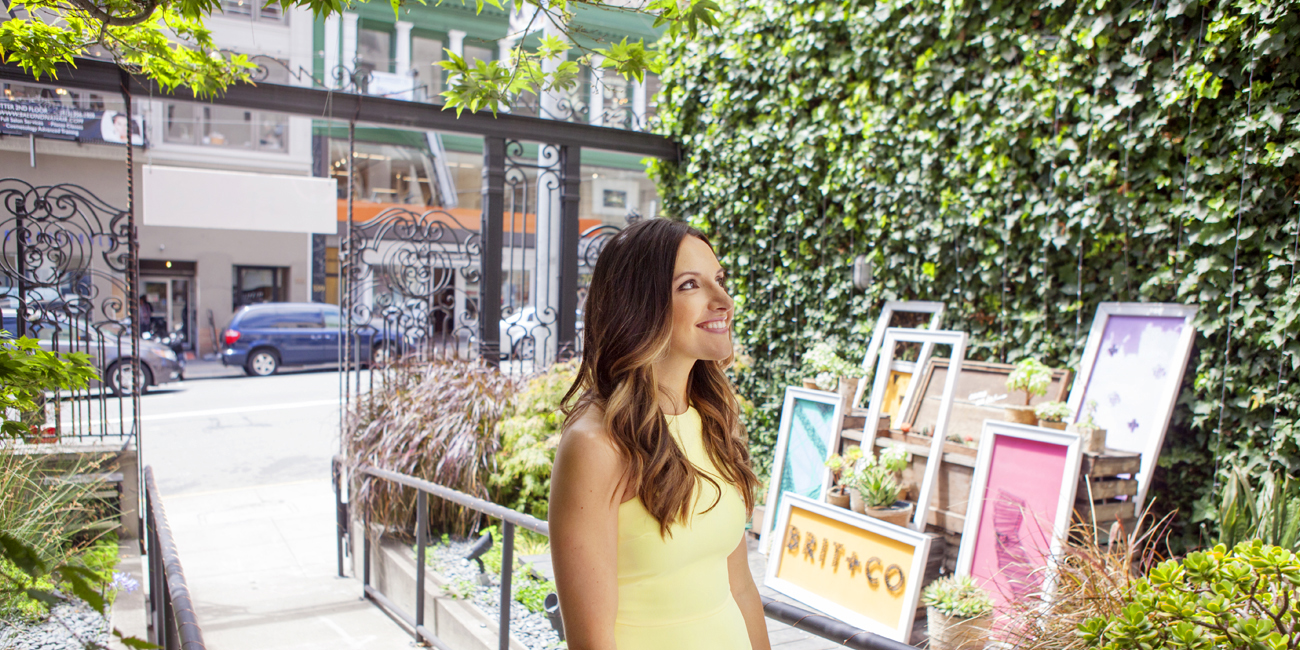 Brit Morin

San Francisco, CA
Just like Rent the Runway's co-founders, there are a ton of women who have leapt into the uncharted, often-insane world of entrepreneurship. We're inviting these risk-takers to be part of a community we're calling The Real Runway: a collection of voices to motivate and inspire your own runway, whatever that may be.
It all started with... Girl Scouts.
In a world dominated by screens, emoticons and acronyms, it's pretty incredible that Girl Scouts still exists. It champions the IRL version of community, showing girls the value of exploring and the joy of creativity. Can't forget those badges either — you're rewarded for participation alone. For showing up and making things. The program had a major impact on one girl from Texas in particular.
Outside the Brit + Co headquarters; Dress, Sachin & Babi; Dress (top image), Elizabeth and James
Brit Morin has always been a maker. After catching the technology bug, her fascination with computer science fueled her dream to move to Silicon Valley. Working at Apple and Google, Brit witnessed her generation take off with the virtual world as companies tried to keep up. In tandem, her virtual and physical worlds became increasingly intertwined — she developed an obsession with apps, made her meals with guidance from her iPhone, and used 3D renderings to decorate her home. Leveraging her tech smarts, millennial intuition and love of DIY, Brit launched Brit + Co: a site that celebrates creativity for modern women. This is Brit's story on how she left her dream job for her dream life: building an empire that 13 million people look to each month. 
You had an awesome, secure job at Google. How did you make the decision to leap? 
A lot of people think they need many, many years of experience — but I actually felt like that was counterintuitive. I was young enough to take a big risk, and had just enough experience to get started and attract the right team members to help me evolve. That said, it was still very scary. 
What were the early days of Brit + Co like?
It was literally just me in my apartment in San Francisco. I worked early in the morning until late at night in my pajamas and basically never got up — which ended up being a bit of a negative experience. Once I started hiring people, I began to enjoy the camaraderie of having a team. That's when I started to feel positive about working for myself.
The hardest part about being an entrepreneur is your drive for success and passion to change the world. You have to grow a thick skin and learn to look at the bigger picture, not just the day-to-day details.
Cuff (left), Eddie Borgo; Cuff, Melanie Auld
You're digitizing DIY. That must have been hard to describe to people at first.
Everyone I talked to raised their eyebrows. But I gathered and explained key data points to support my mission. At that time, craft and DIY was a $34 billion industry that was antiquated and only catered to older people or kids. No one was filling the gap for everyone in the middle. Pinterest, primarily used by millennial women, proved there was a hunger for it. The numbers just couldn't lie.
Did you ever get to a breaking point where you almost gave up?
I've never been close to throwing in the towel, but some days are harder than others. Like many first-time founders, I used to judge whether the day was good or bad from an analytics perspective — and would beat myself up if we had a bad day. I've since learned to look at the bigger picture and trends over the course of weeks and months.
My name is in the brand for a reason. I would love to be doing this for the rest of my life.
Dress, Rebecca Taylor


What does your day look like when you're the boss of your own company? 
In the morning I might have a photo shoot or TV segment. I could be negotiating a multimillion-dollar deal at lunch. In the afternoon, I might review software specs for a new app or product release. I've found that I love wearing multiple hats whereas at Google, I felt very pigeonholed into one role. 
Has your style evolved as your career has? 
I worked at tech companies where I felt self-conscious if I wore a dress to work or even curled my hair. Now I get to experiment with style every day. Some days I'll wear heels and a dress to the office, and others I'll wear a t-shirt and ripped jeans. Brit + Co is all about creativity and authenticity, so I try to embody that as much as I can in my personal style. I never feel self-conscious about what I'm wearing despite the fact that I'm the CEO with a team of 60 or 70 people, including a lot of male engineers.
The majority of our team, board and user base is female. I'm honored for the opportunity to inspire a generation of women in joining the ranks of entrepreneurship and the tech industry.

Dress, Sachin & Babi


What's your advice for up-and-coming entrepreneurs?
Find where your passion intersects with a big opportunity. If you aren't passionate about what you're doing and you don't have a solid mission, nobody will care about your product, no one will want to join your team, and you won't want to get up and go to work every morning. You particularly need that energy in the early days when it's really hard.
How would you articulate the payoff?
I call it the rise of the pantsuit. Since the eighties, women like my mom entered the workforce for the first time. They cut their hair short, wore pantsuits and never talked about liking to bake, knit, or decorate their home. On the surface, what we do at Brit + Co might sound trivial because we show you things like how to organize your home, make jewelry, learn calligraphy or code. But all of that bundles up into empowering women with a set of creative confidence skills. I get emails and tweets from women who tell me that learning how to harness their inner creativity has enabled them to beat depression, get out of bed when they were sick, be more social and find community. That's what keeps me coming back every day.
Women should feel empowered to be CEOs and entrepreneurs, as well as enjoy creative outlets. Women shouldn't be ashamed to admit they want both. That has always been part of our mission and I definitely see it playing out today.
Brit + Co and Rent the Runway teamed up to create an awesome party-starting kit, so you can make a set of personalized rocks glasses and coasters. Mix up a drink (or two) with the included cocktail tools and an At Home Mixology Guide. Plus, you can save on a perfect cocktail dress — the kit includes a code for 20% off your next Rent the Runway order.
 

Brit + Co is a destination for creativity: a place to learn, make and shop. Visit the site for DIY kits, supplies, online classes and curated products from leading makers, designers and brands.
FOLLOW BRIT + CO