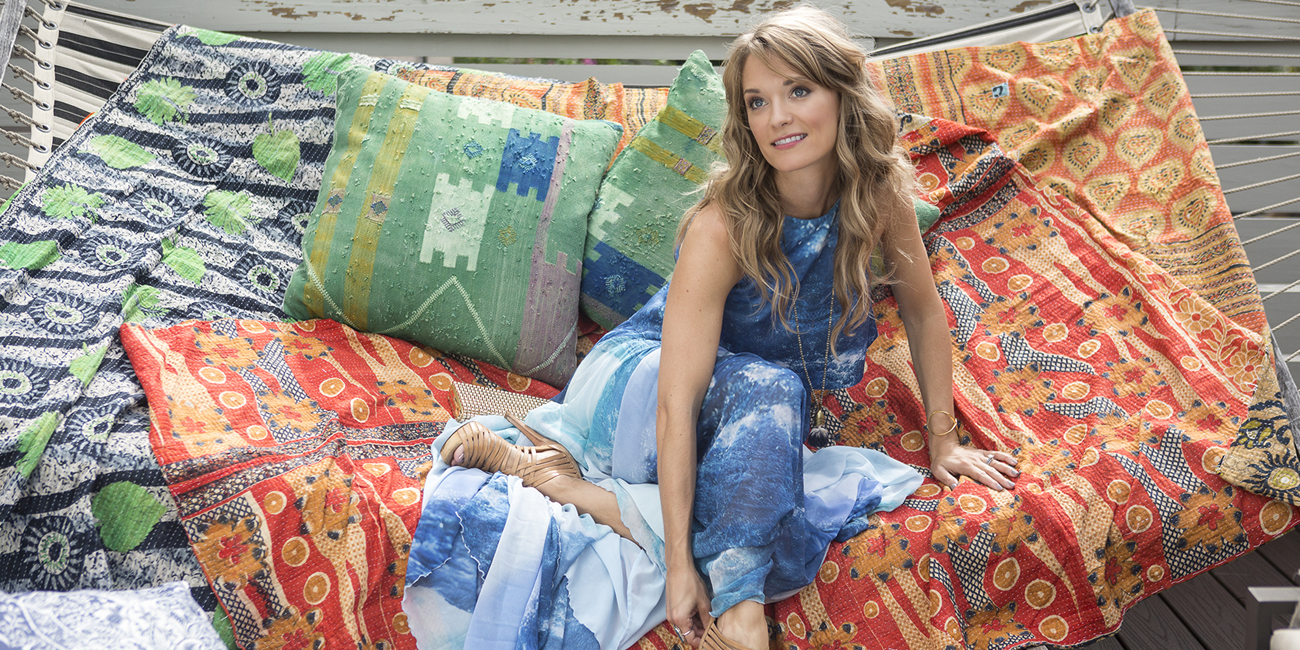 Amanda McClements
Washington, DC
Just like Rent the Runway's co-founders, there are a ton of women who have leapt into the uncharted, often-insane world of entrepreneurship. We're inviting these risk-takers to be part of a community we're calling The Real Runway: a collection of voices to motivate and inspire your own runway, whatever that may be.

It all started with… a beat.
 
A freelance writer covering the DC food and restaurant beat, Amanda McClements realized that many people were intimidated by entertaining. So she launched Salt and Sundry, a store that makes incorporating a touch of restaurant hospitality into your home simple and stress-free. She also holds in-store events and workshops to develop a larger community of hosts and hostesses. Amanda invited us into her home and store (both awesomely decorated, BTW) and shared how she overcame her worrywart syndrome to open up shop.
Dress, Theia

When did you come up with what would become Salt & Sundry?
After writing about food trends and travel for 15 years, I became more drawn to the entertaining side, encouraging people to open up their homes and throw parties. I was so surprised to see how intimidated people could be when opening up their homes to have people over — big house or not. I started picturing this place in my mind where items from tablewear to food products were available in one place. I mentioned this to a couple of friends who said, "Why don't you open up a store?" Which I thought was insane.
Earrings, GILLIAN STEINHARDT; Bag, Loeffler Randall; Necklace, STANMORE
But you did it! How did you get from that state of mind to opening the doors?
One of the most important things for me was coming to terms with the fact that it might not work. I wanted to guarantee that my store was going to succeed, but you can't control or predict success. I'd been working on the business plan for so long and my husband said, "Well, the only way to know is to try it out." Finally, I was like, alright, the train is leaving the station. I can either get on board or go kicking and screaming.
There are no guarantees, but I decided to dive in head first and see what happened.
What makes Salt & Sundry special?
I thought a lot about hospitality and events, and what restaurants do to make your time there special. In DC, I think people are hungry for experiences that they can take home — like going to a great cocktail bar, and re-creating their favorite cocktail at home. I wanted my store to help bridge that gap.
"My staff and I need to look like people you'd trust to help create your home. We have to project that authority through what we wear. It's fun to have wiggle room to express ourselves working in a shop, but you have to look the part of somebody who others will take advice from."
Running a store sounds fun in theory, but what's the reality?
Early on, when I had to hack through business regulations and taxes, I thought, "Nope! I didn't sign up for this. I'm out!" Then I trained my brain to say, "Okay, this is the part you don't like. After you do this, how about you go scout beautiful products?" When I'm faced with the things that don't inspire me, I try to reinforce why I do what I do.
What's your advice to others?
My natural tendency is to overcomplicate and overthink everything. My advice would be to stop getting in your own way and asking those "What if?" questions. "What if I fail?" "What if I can't find great people to work with?" They don't get you anywhere. There is no universal answer or truth. It's hard, but you have to trust your instinct. That's all you have at the end of the day.
Dress, Hunter Bell
What motivates you?
I really feel like I've discovered what I was meant to do. It's inspirational to meet makers and share the cool things they make. I still love working on the floor, too, and love ringing customers up. I'm becoming more comfortable with the fact that people really like the products I pick. When I see my shops bringing joy and inspiring people, I think, "This is what it's all about."
"When I was younger I wanted to share good things with people. That's why I pursued journalism. Now, I get to share a bunch of products that help others better communicate who they are, what they're about and what they value through their homes. I take great joy in that."